Moscow Sightseeing Bus Tour
04.10.09
Duration: about 3 hours
Time: 18:00 - 21-00.
Price: 29 € per person
Transport: Bus will depart from and return to the main entrance of the Moscow Holiday Inn Hotel Sokolniki

This excursion is to get you acquainted with the city of Moscow and its most important and beautiful sights. The tour takes you to the impressive Red Square, where you will see the St.
Basil's Cathedral from 16th century, the Lenin Mausoleum, the Historical Museum, the GUM Department store.
You will stop at the Sophia Embankment where you will enjoy the most beautiful view of Moscow Kremlin.

The bus will take you to the historical areas of Moscow, such as Tverskaya Street, Prechistenka Street, the Novodevichy Convent, and the Vorobyev Hills – former Lenin Hills – the highest point of Moscow with a magnificent panoramic view of the city.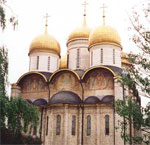 Kremlin Walk tour
04.10.09
Duration: 1,5 hours
Time: 12.00 – 13.30
Price: 35€ per person
The Kremlin is the symbol of Russia and the main tourist attraction of Moscow. Once the residence of Tsars and Patriarchs, today it is one of the biggest architectural ensembles in the world, which is included into the UNESCO list. Moscow Kremlin fortress was one of the most fortified in Europe, even more than the ones in Milan and Krakow. The red brick walls with 20 towers were never captured by the enemies. The small city in the center of Moscow contains Russia's main cathedrals, Assumption Cathedral, Archangel's Cathedral and Resurrection Cathedral. Nowadays Kremlin palace is an official residence of the President of Russian Federation. So, you can visit just part of the Kremlin territory.
State Tretyakov Gallery
06.10.09
Duration: 2 hours
Time: 10.00 – 12.00
Price: 22€ per person
A guided excursion to the State Tretyakov Gallery, presenting the best collection of Russian fine arts in the world, from the ancient time to the contemporaries. The State Tretyakov Gallery is the biggest art museum in Russia housing the largest collection of the Russian art. The Gallery was founded by P.M. Tretyakov (1832-1898), a Moscow merchant, who dreamed of a museum accessible for any visitor, with fine collection of objects, which would describe the whole history of the Russian art. On display here are the specimens of early Russian art of the 9th-17th centuries, including the icons of the 12th-17th centuries; pictures (among them painted by famous artists Borovikovsky, Brulov, Repin, Surikov, Serov, Kuindgi, Aivazovski, Levitan, Korovin), drawings and sculptures of the 18th to beginning of 20th. The works of the representatives of the Russian avant-garde and socialist realism are displayed at the Exhibition Hall of the State Tretyakov Gallery. Today the museum houses a collection of more than 130,000 artworks.
General Information & Payment
Should the minimum participant number not be reached, Organizing committee reserves the right to cancel the excursion. Prices may be subject to change for exceptional reasons beyond the control of Organizing committee.
All the payments should be provided on site. For reservation, please, make a request to qlife@rambler.ru
If you have any questions or need the additional information about the excursion program, please, contact Organizing Committee Secretariat
e-mail: qlife@rambler.ru
Tel.: +7 962 7101711